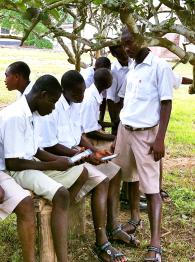 About the Project
Most people in the developing world never own a book. Even in developed countries the prohibitive price of textbooks and academic titles hinders education. This can be changed through the power of digital books. Open Book Publishers (OBP) is a not-for-profit organization based in Cambridge, UK and the leading Open Access publisher for academic works and textbooks in the UK. 
Open Book Publishers was founded in 2008 by a group of academics in Cambridge and London who were passionate about disseminating knowledge. It has spearheaded an innovative and low-cost publishing model to make high-quality textbooks for secondary schools and monographs freely available online, alongside inexpensive printed editions. Its model represents an alternative to traditional educational books and textbook publishing — a system that, given the exorbitant prices charged, benefits only the privileged few with access to well-stocked libraries.
The project has been very successful in removing barriers to knowledge: OBP has published 40 titles, including works by by leading academics, which are read and used in the classroom in over 120 countries, including sub-Saharan Africa and India.  Its work is particularly important for developing countries where only books that are free and digital can reach readers. It has partnered with organizations such as World Reader to ensure that its titles are available free of charge to a large readership in Africa and Asia on a variety of devices, including mobile phones.
Context and Issue
The high cost of textbooks and university-level works marginalizes individual readers and less well-endowed university libraries the world over. At a time when great efforts are made toward widening access to education, encouraging continuing education, and creating free online courses, the need for high-quality digital books and textbooks open to all is urgent. The social benefits of providing free high-quality educational material are huge both in the developed and developing world as education is the key to individual fulfilment, social mobility and economic growth – but no large-scale educational program is possible without easy and free access to learning resources.
The Solution and Impact
By providing free learning materials in a variety of digital formats the project is able to reach readers anywhere in real time and on a variety of devices. The books are of high quality and are published swiftly and professionally; the digital medium is fully utilized and interactive material to enhance the learning process is created.
With a relatively small investment, quality, educational content can be accessed by a huge number of readers worldwide. With a budget of only $6,000 (US) per title OBP delivers top-level books and produces innovative educational technologies. The project's digital platform allows an enhanced reading experience, provides additional digital material to complement Open Book titles and develops interactive and commentary functions so that textbooks can be used as teaching tools. More importantly, such technological advances are made available as Open Source tools to enable other non-profit organizations to benefit from the project's work, thus bringing wider and long-term benefits to a host of educational projects.
A university-level book typically sells 200 copies during its entire lifetime. Open Books are read by an average of 400 readers every month from over 140 countries. In 2013 alone over 1.5 million pages of Open Book's 38 titles were read, with about 20 percent of readers based in developing countries. The project addresses the needs of disadvantaged readers worldwide who, thanks to Open Books, can access free educational resources that they would not otherwise have the chance to access. Significantly, after the US and the UK the country with the greatest number of online readers was Greece, while the project's book Oral Literature in Africa has been accessed in Africa more than in any other continent.
Future Developments
The project's upcoming developments include: 
 

Launching a new science book series and expanding a textbook series for secondary school students to broaden access to a range of free resources in all areas of study;

 

Publishing entirely interactive books: audio and video material, maps and other digital resources will enhance the reading experience and address the needs of younger readers;
Developing interactive functions for all Open Book titles so teachers will be able to use them as customized teaching resources. In five years' time, Open Book will be a leading provider of cutting-edge and Open Access educational material worldwide.
The project aims to achieve this by collaborating with leading scientific organizations and individuals and through grants to launch the new Sciences series. The project has commissioned textbooks in English and History; publication is planned for Summer 2014. 
The project also seeks to customize an Open Source program for the creation of interactive books (Scalar). The initiative has trained the authors of these interactive books on its use and will support them throughout the writing process. 
Open Books is studying the creation of interactive functions for all titles. Strategic work has been done to attract investment to further expand the project's titles' list and to continue to increase its readership globally.
April 26, 2014 (last update 09-11-2019)