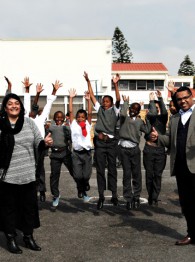 About the Project
This project is one of the 2016 WISE Awards finalists.
Partners for Possibility (PfP), the flagship program of Symphonia for South Africa (SSA) is a leadership development initiative designed to improve the quality of South African basic education and achieve long-term sustainable improvement in the lives of South Africa's learners and their communities. Recognizing that quality education is the key to breaking South Africa's vicious cycle of poverty, PfP works to achieve this by focusing on school principals, the people tasked with leading school communities and creating an environment that supports high quality teaching and learning.
PfP partners school principals in under-resourced schools with experienced business leaders and offers certificated leadership training to develop strong school leadership. The primary objective of the program is to capacitate principals to lead change and mobilize parents and other community members to become actively involved in schools.
The PfP program taps into the resources developed by the business sector to equip school principals with the knowledge and skills to lead change and collaborate effectively for the benefit of their schools and communities. Through these partnerships, principals also receive practical support to principals as they embark on a change journey at their schools. The two leaders work together to make a sustainable impact on the school community and on the quality of education provided by the school.
Context and Issue
The South African education system is struggling with poor outcomes, low standards and inadequate resources. 20,000 of South Africa's 25,000 schools are considered to be "failing". These 20,000 schools cater to more than 10 million children in disadvantaged communities and are the leading contributor to poor education outcomes in the country. They are the reason that the World Economic Forum ranks South Africa 146th out of 148 countries for educational quality – and last in math and science education. Teaching quality is declining, pupil disengagement is at an all-time high, and parent abdication is a growing problem. An estimated 80 percent of Grade 8 learners cannot read at grade level and more than 50 percent of children in South Africa leave school with no educational qualification. Simply put, the basic education system in South Africa is in crisis.
South Africa has unacceptably high unemployment levels and is, in this respect, a global outlier among middle-income countries. The UNDP, as a key global development player, points out that unemployment is a key driver of poverty, inequality and rising social tensions in South Africa. Learners who leave school with no educational qualification struggle to find full-time employment and have a high probability of joining the ranks of the long-term unemployed.
In May 2015, the OECD reported that if all 15 year-olds in South Africa were to achieve a basic education, the country's economy would grow by 2,624 percent over the average lifetime of these learners. It is clear that education holds the key to the health of the South African economy and therefore the future of the nation.
The Solution and Impact
Whilst South Africa's education system is in crisis, the country accounts for 24 percent of Africa's GDP and has the second-largest economy in Africa, behind Nigeria. A key contributor to this situation is that there are thousands of business leaders in South Africa who have been very well-equipped by their various organizations to assume leadership positions and manage change. Instead of developing an expensive consultant-led solution, PfP leverages this national resource onto the education system by partnering well-trained business leaders with school principals to help support and equip those principals with the knowledge and skills to lead change in their schools and communities. When business leaders, many of whom want to make a contribution to public education, are partnered with school principals in a facilitated and structured development process, principals get the kind of support that they need in order to lead change at their schools.
PfP is recognized as an innovation in Corporate Social Investment, leadership development, education reform and principal support because it is not a coaching on mentoring process. Business leaders become partners to principals with the expectation that they will learn from each other in a reciprocal process. While principals benefit from the extensive management and leadership development routinely available within the business sector, business leaders are given the opportunity to gain valuable insight into the immense complexity, ambiguity and challenges faced by school principals and the social issues that drive some of the major dysfunction in South African society. The program also provides a platform for business leaders to engage much earlier with potential new entrants to the working world and for becoming involved in communities with which many did not know how to approach.
In just a few years of operation, the PfP program has had a substantial impact in over 370 schools. To date, the program has impacted 373 principals and 373 business leaders and11,280 teachers. Findings from the latest internal evaluation, published in 2015, show that over 90 percent of the principals involved with PfP have reported an improvement in their ability to inspire, lead and sustain positive change in their schools. Consequently, they have overseen improvements in various areas of their schools.
Future Developments
PfP is funded primarily by the companies whose business leaders participate in the program and has grown steadily over recent years. By the end of 2015, 378 partnerships had been launched across South Africa. Even without significant additional funding support, this should increase to 1800 partnerships by 2020, covering almost 9 percent of "failing" schools. However, PfP is dreaming much bigger and has set itself the target of reaching almost every "failing" school in SA by 2025. To achieve this, SSA is employing a multi-pronged approach to fundraising. This involves exploring the possibility of impact investing and targeting CSI funding from South African organizations and funding from international trusts and foundations.
In addition to funding, significant expansion of the PfP program will also require the involvement of many more active citizens around South Africa's schools. SSA implements a wide range of ongoing, carefully targeted marketing and communication activities to raise awareness and mobilize citizens to participate in shaping the South Africa they want to inhabit.
April 26, 2016 (last update 09-11-2019)