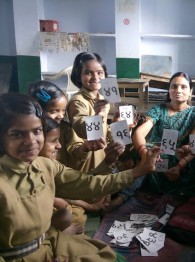 About the Project
This project is one of the 2015 WISE Awards finalists.
In most developing countries teacher motivation and commitment remain disturbingly low. In India one in four teachers are absent on any given day and nearly 84 percent of Ugandan teachers would quit if given a choice. STIR is building the largest independent professional movement for teachers across the developing world to motivate and empower teachers so that they become skillful practitioners and impact child learning. Their focus is on creating catalytic impact and leveraging partnerships to build this movement, including 21 operating NGO partners such as Pratham, Bharti Foundation, Educate Girls, and PEAS, as well as the governments of India and Uganda. 
Context and Issue
Over 90 percent of all children in developing countries are now in school – yet when in school most children hardly learn anything. Over 50 percent of Indian fifth graders are at least three grade levels behind where they should be (ASER, 2012). Similarly, 90 percent of Ugandan third graders cannot read a story text, whilst 70 percent are unable to solve basic sums (UWEZO, 2012). Governments have responded differently – from increasing teachers' salaries and providing teacher training to engaging parents to increase accountability. 
The Solution and Impact
To tackle this issue STIR has developed its own model that provides a strategic opportunity for improved learning outcomes through committed, capable and motivated teachers. The model is based on:
Identifying potential Teacher Changemakers
Networking Teacher Changemakers to change their own mindset and influence peers
Connecting Teacher Changemakers to wider teacher and school improvement opportunities
Mobilizing the collective impact of Teacher Changemakers to encourage structural reforms.
Through the STIR model, teachers are connected to external support and resources to sustainably improve their practice, so that they can innovate and at the same time see themselves as positive role models. 
With regards to the impact of the project, STIR measures it in partnership with Columbia University, IDinsight and ASER in terms of key outputs: 
Number of partners embedding the model and teachers in networks
Outcomes such as changes in teacher motivation and classroom practices
Impact on student learning 
Tangible policy change
Interim results from the independent process evaluation and partner-reported impact are encouraging as there have been significant changes in teacher behavior in terms of critical thinking, creativity, proactivity, and an improved classroom environment. Partners like Africa Educational Trust and Room to Read have reported improvements in student attendance and learning. Another partner, PEAS, has modified its continued professional development priorities to include peer-to-peer networking in school versus their earlier focus on head teacher training.
Future Developments
STIR's end goal is to hand leadership of the movement to teachers themselves and governments. By building an expanded network of potential implementation, dissemination, and advocacy partners, STIR is now supported by 17 of the world's leading donors including USAID, DFID, MacArthur, Mastercard, ARK, UBS, Mulago, Draper Richards Kaplan, Peery & Segal Foundations. 
By 2024, the organization will seek to build a professional movement of 1 million Teacher Changemakers positively impacting learning for over 40 million children through an ecosystem of over 100 partners.
April 26, 2015 (last update 09-11-2019)