Sherrie Rollins Westin
Executive Vice President, Global Impact and Philanthropy, Sesame Workshop

United States of America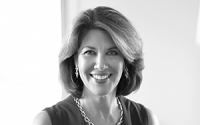 Sherrie Rollins Westin is Executive Vice President for Global Impact and Philanthropy at Sesame Workshop, the nonprofit organization behind Sesame Street. Westin oversees the Workshop's programs addressing the needs of children from India to South Africa to the United States, providing early education through mass media and targeted initiatives.
During her career, Westin has held leadership positions in media, nonprofit, and public service. She was Assistant to the President for Public Liaison and Intergovernmental Affairs under President George H.W. Bush, Assistant Secretary for Public Affairs at the U.S. Department of Housing and Urban Development, and held senior positions at the ABC Television Network and U.S. News & World Report.
Westin serves on the board of directors of the U.S. Fund for UNICEF, the U.S. Global Leadership Coalition and Communities in Schools. She is a member of the Council on Foreign Relations and the U.S. Afghan Women's Council. Westin was named a 'Leading Global Thinker' by Foreign Policy Magazine in 2016 and one of Fast Company's 100 Most Creative People in Business in 2017.
Westin holds an Honorary Doctorate from Concordia College in New York and is a graduate of the University of Virginia. She lives in Bronxville, New York with her husband David and her children, Lily and David.