In recent years the framework for twenty-first century skills has evolved remarkably and global attention and awareness of the subject has increased as well. Nevertheless, the definition and implementation of twenty-first century skills differs among international organizations, particularly according to national contexts.
Through a literature review of more than 15 countries over the past ten years, the report aims to understand how twenty-first century skills have been implemented, and to describe the current state. The report describes the skill framework, considers what has driven interest in it, how the skills are successfully applied, their impact, and opportunities and challenges for future implementation. Based on the conclusions of this comparative study, an analysis of the policy implications and future trends are discussed.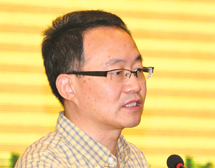 Prof. Jian Liu
President, China Education Innovation Institute, Beijing Normal University
Jian Liu's major appointments are Doctoral Supervisor, Chief Expert and Vice Dean of Collaborative Innovation Center of Assessment toward Basic Education Quality, Vice Chairman of Education and Culture Committee of the Central Committee of the Jiu San Society and Dean of China Academy of Education Innovation.
This report has been reviewed by:
Dr. Chris Tan, Director of R&D, Learning Ecology
Dr. Miao Fengchun, Chief, ICT in Education, Teacher Development and Education Policies, UNESCO
With contributions from:
Dr. Rui Wei, Associate Professor in the Institute of Chemical Education, Beijing Normal University (BNU), and Vice Director for China Education Innovation Institute at BNU
Dr. Cheng Liu, Lecturer, College of Life Science in Beijing Normal University, China
Dr. Man Shi, PhD Candidate, Lecturer of School of Foreign Languages and Literature, Beijing Normal University and Research Fellow at Center for Foreign Language Education and Teacher Education, Beijing Normal University, China
Dr. Pingyan Zhou, Lecturer at National Assessment of Education Quality, Beijing Normal University, China
Dr. Ying Wang, Associate professor of Curriculum and Pedagogy in the School of Education Science, Wuhan University and Academic Counselor of the Liu Daoyu Educational Foundation of Hubei province, China
Putting Education at the Heart of Global Development