Abdellah Iraamane
Enterprise Applications Developer, Novway

Morocco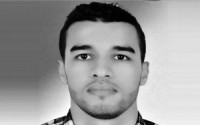 Abdellah is a Masters degree student pursuing studies in Software Engineering. He holds a Bachelor degree in Mathematics and Computer Science. He was raised in a difficult environment in rural Morocco where he studied for the first four years of his academic career, an experience that allowed him to develop a strong commitment to improving livelihoods of people in precarious situations across the country.
Since he joined university in 2010, Abdellah has shown noticeable interest in social entrepreneurship and community service, as demonstrated by leading and participating in various social initiatives alongside a wide range of civil society actors and community service programs as well as international NGOs. His interests encompass leadership, youth participation, entrepreneurship, and cross-cultural understanding. He has also participated in international conferences in Norway, Germany, and Turkey.
Among Abdellah's most recent contributions is the MAKE-IT project; developed within the social entrepreneurship club (Enactus) of the Faculty of Sciences in Rabat, Make-IT aims at facilitating access to Information and Communication Technologies (ICTs) for primary school children in rural areas of Morocco.
Abdellah works currently as a mobile and web developer. He envisions a future where cutting edge technologies will transform the way we live, and he believes that these very technologies will assist in eradicating pressing global issues.