Abir Bouguerra
Student

France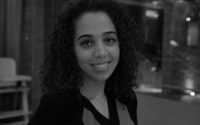 Abir is currently completing her third year as a student at the Medill School of Journalism at Northwestern University in Qatar, majoring in Journalism. She is also in the process of attaining a minor in Business Administration. 
She believes in the importance of building the values of ambition and persistence in younger generations. She hopes to find the right platform through the Learners' Voice Program to integrate such values in the different educational systems around the world.
Abir is also an artist who has organized a couple of oil painting exhibitions, and who thinks that finding a way to combine art with education would offer many young people the chance to learn in a much more compelling way.  
For Abir, being ambitious is one of the most important driving forces in life. This is why she is not only a student, but also a young entrepreneur who is working on her own business project.