Agazi Afewerki
Law Studies

Canada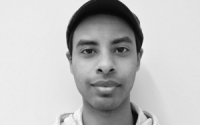 Agazi, whose family originates from Eritrea, was born in Germany. After his law degree at the University of London, he moved to Toronto, Canada where he now dedicates much of his time to helping others in his Regent Park community, which has a large population of newcomers and high rates of poverty, unemployment, violence, crime, drug abuse and social ills.  
Agazi's volunteer work has been recognized through many local and global honors. He was the recipient of the Lieutenant Governor's Award in 2005, a millennium initiative which honors and encourages voluntary work by young people. Most recently, the Youth Empowering Parents program, which he co-founded, was awarded the UN's Intercultural Innovation Award, given to grassroots organizations that promote intercultural dialogue. 
Agazi is currently President of Youth Empowering Parents; Coordinator of the Daniels Learning Centre, and Co-Founder of the Pathways Alumni Association, Pathways to Education Canada. He is also involved in developing the School for Social Entrepreneurs in Toronto, an expansion site of the program that provides action-based learning for social entrepreneurs.