Ahwaz Akhtar
Student

Pakistan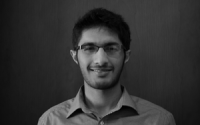 Ahwaz is a sophomore at Georgetown University's School of Foreign Service in Qatar, and intends to major in International Economics. He was born and raised in Karachi, Pakistan, but considers himself a citizen of the globe owing to his varied family background.
Ahwaz believes that cricket is the greatest sport ever invented, and playing it requires innate intelligence only bestowed upon the select few. Nevertheless, he has made repeated unsuccessful attempts at other sports such as tennis and football, much to the amusement of his friends. At weekends, you might find him swaying to Indian and Pakistani classical music, in particular to the Sufi qawwalis by Nusrat Fateh Ali Khan.
His interest in issues related to education stems from his experiences teaching during summer breaks, and it was precisely then that he realized how important it is to educate the future generations in the best manner possible. He is also involved with the Hoya English Language Program (HELP), an initiative by Georgetown University to teach English to the migrant workers in Qatar. Furthermore, he volunteers for two student clubs in Georgetown named Akhuwat-e-Awam and Amel, both of which are making attempts at spreading involvement in education to disadvantaged groups in Pakistan and Qatar. He would like to use his participation in WISE to gain practical insights into the workings of educational practices today in the global context, an exciting prospect given the diversity of attendees at WISE each year.