H.E. Aïcha Bah Diallo
Founding Member, Forum of African Women Educationalists (FAWE)

Guinea-Conakry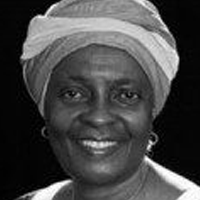 H.E. Bah Diallo, former minister of education in Guinea and former Assistant Director General for Education in UNESCO, is member of many national, regional and international NGOs and Foundations working in the field of education, good governance and leadership. As minister, Mme Bah Diallo pioneered work on lowering barriers to education for the disadvantaged groups, in particular for girls. She is recognized as the leader of educational reforms in Guinea and is highly respected in Africa.
Engaged in the promotion of women and girls' education all her life, Mme. Bah Diallo is known as « champion of women and girls' education ». She is the first minister to fight  against gender violence at school and initiated the re-intrance policy for adolescent mothers.
Mme Bah Diallo participated in major international meetings on education: the World Conference on Education (Jomtien, 1990) the EFA Forum (Dakar, 2000), the World Education Forum (Incheon,2015). Mme Bah Diallo has received many distinctions national and international, the « Outstanding Women Leadership Award » and was of the ten top Most Influential Africans in 2013. Private as well as public schools are named after her in Guinea, and one is Senegal.
She speaks six languages: three African and three European.