Ana Plavsic
M.A. student of Language, Literature and Culture, Faculty of Philology, University of Belgrade

Serbia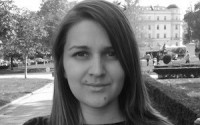 Ana Plavsic is an M.A. student of Language, Literature and Culture at the Faculty of Philology, University of Belgrade, Serbia. Besides her studies, Ana has been actively involved in the work of various local, national and international NGOs for a few years now. 
Ana has worked with vulnerable groups such as youth with disabilities, and youth in general. Her goal is to motivate young people to take charge of their own lives and succeed. She is a staunch promoter of life-long learning and non-formal education and tries to instill these values in her community and environment. Over the last couple of years, she has participated in various conferences, training programs and workshops in Europe on human rights, non-formal education, active citizenship, etc. She has also co-organized and implemented several projects within the EU programs Youth in Action and Europe for Citizens.
For her efforts, she has received three awards from her hometown for social engagement and excellent results in studies. In addition, she has been proclaimed a Youth Reconciliation Ambassador by the NGO Youth Education Committee, supported by the British Embassy in Serbia. She has also been selected as one of the 20 students from the University in Belgrade to participate in the educational program AmChamps – Young Leaders in Change by the American Chamber of Commerce.
Her dream is to combine formal and non-formal education and to modernize the educational system in Serbia and beyond. For this to happen, she believes it is essential to connect various sectors, such as the public and private sector, and she would like to help establish this connection.