Anne-Martine Augustin
Student of Université d'Etat Haiti

Haiti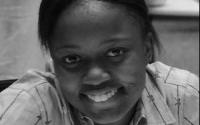 Anne-Martine was born and raised in Haiti. An avid reader, she has devoted much of her time to improving her education. In 2009, she received a merit and need-based scholarship with the Haitian Education and Leadership Program (HELP), the largest university scholarship program in Haiti. She is currently a fourth-year student in electronic engineering. Anne-Martine is a dynamic and responsible leader who influences change and decision-making at her university. She uses her role to defend her peers, especially when faced with discrimination.
 
In 2010, she worked with the Bureaux des Avocats Internationaux (BAI) to lead a study on rape prevention and a prosecution project in refugee camps in and around Port-au-Prince. She also worked as a volunteer at the Jean-Robert Cadet Foundation to teach math to children who are working as domestic servants in preparation for starting school. Anne-Martine is particularly interested in developing a program that would facilitate the training of secondary school teachers in Haiti.
 
As a representative of Learners' Voice, Anne-Martine took part in the Pre-Assembly and the 11th Youth Assembly at the United Nations in New York, from July 28 to August 3, 2012. During the Assembly, Anne-Martine led the group initiative "Learners for Haiti" that won a Resolution Project Fellowship.