Athanasios Sardellis
Student

Greece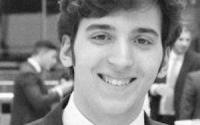 Athanasios is a sophomore at Georgetown University School of Foreign Service in Qatar (SFSQ). He is majoring in Culture and Politics and hopes to receive a certificate in Media and Politics. He was born and raised in Athens, spent six years in the United States, and then moved to Doha to study for a B.S. in Foreign Service at Georgetown.
While living in both the United States and Greece, Athanasios was exposed to diverse educational systems, which fuelled his passion for education. Thanks to his multicultural exposure, he started to question some basic structural issues regarding the nature of education. In this respect, by working with WISE, he wishes to have a more nuanced understanding of the challenges and prospects of education both in Qatar and the wider region.
While at Georgetown, one of his most memorable experiences was traveling to India last summer as an organizer of a Georgetown Model United Nations conference in New Delhi. Moreover, he was introduced to some of the complexities of Indian culture, which reinforced his interest in encouraging cross-cultural understanding. At SFSQ, one of his favorite extra-curricular activities is the Hoya English Language Program (HELP), where he teaches English to service providers at Georgetown. Athanasios believes that engaging and integrating all members of our community is vital for the establishment of a harmonious environment. He strongly believes that doing so through education is the best approach. 
Athanasios's goal for the future is to improve the public educational system in Greece. His dream is to travel the world in order to understand better the way different cultures approach basic issues such as education.