Chol Yaak Akoi
Student, University of Nairobi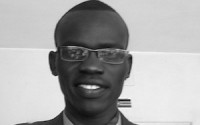 Chol is a South Sudanese who fled from his home country and settled in Northern Kenya in a refugee camp in 2001 at the age of 13. He started primary school in the Camp – Kakuma Refugee Camp – and later enrolled in a secondary school. Chol's dedication toward education enabled him to get a scholarship from DAFI after successfully completing his secondary school. He is a postgraduate student pursuing a Master's in Business Administration (M.B.A.- Finance) at the University of Nairobi, Kenya, where he previously graduated with a Bachelor's degree in Commerce (Finance).
He is the Chairperson of the South Sudan Students Association in Kenya. The association caters for students' welfare as well as helping students from all spheres of life to peacefully co-exist in order to achieve prosperity in their new nation. Chol is enthusiastic about education and aspires to return to his home country and become a university lecturer-cum-entrepreneur once he completes his studies. 
Chol is a key player in the establishment of the International Safety and Training Leaders project. The initiative aims to provide opportunities for the less fortunate and orphaned children to access education and also equip them with leadership skills to enable them to become responsible global citizens. Chol is a motivational speaker who inspires people from his experience as a refugee and his academic and leadership accomplishments. He firmly believes in eradicating poverty and conflict through investing in the holistic education of children and young people. The program is currently running a primary school in South Sudan supporting pupils from conflict-stricken areas.