Christina Ong
Ph.D. Student, University of Pittsburg

United States of America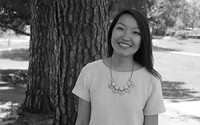 Christina Ong is a learner and educator from the United States. As a Tobis Fellow at the University of California, Irvine's Center for Ethics & Morality, Christina conducts ethnographic research on the motivations of activists, allies, and how activism combats oppressive forces. Throughout this work, Christina has been interested in how underrepresented communities build alternative learning spaces, as in through social media, to combat narratives that are harmful to sustaining and empowering communities. Christina is also an advisor for Tiyya, a non-profit providing educational opportunities to refugees resettling in Southern California.
Committed to elevating social justice education around the world, Christina promotes equalizing ownership of educational content, increasing accessibility to well-resourced schools, and overall equity in education globally. Her participation in UCI's Center for Citizen Peacebuilding impacts her approach to social justice education. She believes in using the power of storytelling and sharing one's identity as an educational tool against xenophobia, racism, and ethnocentrism, broadens the scope of social justice perspectives offered and can turn atypical spaces into informal learning environments.
Christina is in the process of applying to doctoral programs to study racial justice within the US through the scope of social activism and education reform.