Mr. Christopher Pruijsen
Founder and CEO, Sterio.me

Netherlands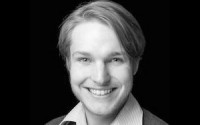 Christopher Pruijsen was the youngest-ever President of Oxford Entrepreneurs when he attended the University of Oxford, where he matriculated at age 17. 
He co-founded AMPION (http://ampion.org) across Africa and the Middle East (formerly StartupBus Africa) after having co-founded Founderbus UK in 2012. AMPION is organising 4 Venture Bus hackathons across 16 African countries with 160 innovators in 2013, after which the top 20% of ventures will be incubated for 6 months as part of a Pan-African Fellowship programme.
Chris is co-founder and CEO of Sterio.me, which reinforces learning with interactive and pre-recorded audio lessons – accessible via any type of phone – no Internet or smartphone required.
The Sterio.me technology enables learning across literacy, language and data/device barriers.
Sterio.me started on StartupBus Africa ('13) and was honoured as Finalist at Harvard Africa Business Conference, MIT Africa Innovate, MLOVE, World Summit Award (education and runners-up "African Content Award"), World Technology Award (education), Mondato Summit Africa and Mobile World Congress "4YFN". Fast Company named Sterio.me one of the "10 Most Innovative Companies in Africa" in 2014 and Sterio.me was accepted to Startup Chile Generation 10 and the inaugural WISE Accelerator.
Chris is a Global Shaper of the World Economic Forum, a Fellow of the Kairos Society and a member of NEXUS.