Daniela Banari
Event Assistant, Radisson Blu Hotel

Romania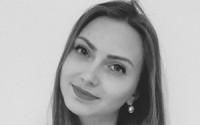 Daniela joined the University of Huddersfield in 2012 after receiving her Baccalaureate Diploma in Romania. She is now a graduate student with the Bachelor of Arts in Business Management programme and she feels proud of achieving her dream of completing her studies in the United Kingdom.
During her college and university years she was involved in various activities and projects, such as Kultur Kontact whose objective is to teach students how to run a real business. Another of her achievements during the academic years was the Chartered Management Institute Competition where she and her team won first place.
Besides her academic career, Daniela is interested in learning about diverse cultures and new languages. She can speak fluently in four languages (Romanian, Spanish, Russian and English) and is currently learning French. Additionally, she took part in different dance and music festivals. This was one way she has taken part in charity programs and has become involved in the problems that face society.
Currently, Daniela is working as an Event Assistant at the Radisson Blu Hotel.