Eduardo Gomez
Business Administration Student

Colombia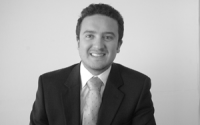 Eduardo is a bio-entrepreneur who is convinced the 21st century is the century of biodiversity and biotechnology. He is from Manizales, Colombia, and has a Bachelor's degree in Business Administration. 
Eduardo is a youth leader in Colombia in issues relating to biodiversity and biotechnology. His platform – Generación Bio – was created in March 2010, with the purpose of developing and promoting education in biotechnology. This concept has evolved rapidly, marking the foundation's work in biotechnology and biosciences as an engine for economic, social, scientific and technological development for Colombia and worldwide.
He has experience in issues such as international cooperation, entrepreneurship in technology and biotechnology-based commerce, execution of international events, and research in areas of traditional, cultural and technology management. Working with academic, public, and private institutions has given him an understanding of how the world works.
Eduardo has worked on the project "Bio Corridor, Biosciences, and Natural Ingredients" that is part of the Business Development Ministry, the Iberoamerican Congress of Biotechnology and Biodiversity. He also participated in the creation of a Centre of Social Business with Caldas Grameen. Eduardo believes that education in biosciences and biotechnology are part of building a strong foundation for sustainable development.