Faith Abiodun
Founder and President

Niger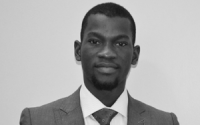 Faith Abiodun is an entrepreneur, project manager, writer and speaker.
He led a very eventful career in journalism from 2005 to 2011, serving as Editor-in-Chief of the Union of Campus Journalists, University of Ibadan, Nigeria; reporter with The Guardian Newspapers and host of a radio interview program. As a reporter, he earned bylines with 11 Nigerian dailies and interviewed several personalities including 1986 Nobel Literature Laureate, Prof. Wole Soyinka, and 2011 Nobel Peace Laureate, Mrs. Leymah Gbowee. 
His undying passion for youth development led him to establish The F.A.I.T.H. Initiative  – a non-profit youth and community development organization in Nigeria – in November 2008, with a mission to "build a socially and economically prosperous Nigeria through investments in leadership, entrepreneurship and education". He is presently employed at the African Leadership Academy, South Africa, as Communications Associate and Director of the International Relations Council, teaching International Relations with a special focus on the United Nations and the African Union. 
Faith Abiodun earned a Bachelor's degree in Geography from the University of Ibadan, Nigeria, and a Master's degree in Public Administration from Syracuse University, USA.  He is a member of the American Society for Public Administration, Project Management Institute, and Toastmasters International. 
As a dynamic young African, his vision is for a continent in which little children will not know what it means to be plagued by preventable diseases, where schools will become true factories of knowledge, and where infrastructure will be an engine for social and economic development.