Fatema Akbar
Information Systems and Business Administration

Bahrain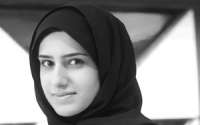 Fatema is a student in her senior year in Carnegie Mellon University in Qatar (CMU-Q), taking a double major in Information Systems and Business Administration. She is from Bahrain where she graduated from high school as the top student of her class. 
Fatema currently serves as the Vice President of the Student Advisory Council in CMU-Q. She is also a member of the Academic Review Board. Fatema is always eager to learn about other cultures and has been fortunate to travel widely to represent her university in conferences in the US, Singapore and the UAE. Recently, Fatema went to China as part of a CMU-Q service trip where she taught English and life skills to primary school students in a village in Xi'an. This was one of the most instructive experiences of her life. 
Fatema is passionate about education and technology and is currently doing her senior honors thesis, studying the Unified Theory of Acceptance and Use of Technology (UTAUT) in an educational environment and how the use of technology leads to better academic achievement and course satisfaction.