Fatima Al-Zahrani
Student, Texas A&M University

Qatar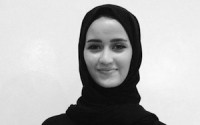 Fatima Al-Zahrani is a Qatari senior Chemical Engineering Student at Texas A&M University in Qatar with a minor in Chemistry. She grew up sharing her father's passion for Arabic literature and poetry. She also grew up believing in writing as the way to pass on thoughts, experiences and lessons. Apart from her personal interests, her academic life started with her aspiration to become a medical doctor and she pursued that dream when she was given a place at Weil Cornell Medical College in Qatar. A year later, Fatima no longer saw her future in that field and took the decision to entirely change her career path to the field of engineering. 
Alongside her academic work, Fatima believes in the responsibility of helping younger generations and passing on one's experiences and knowledge. She worked for two years as an Ambassador for Hamad Bin Khalifa University where she met grade 11 and 12 high-school students and helped them with their college preparation. Fatima also worked for one year with Reach Out to Asia's Adult Illiteracy Program where she spent two classes every week teaching English language to non-English workers at Texas A&M University. 
Fatima believes that education is the gateway to everything and that today's generation has a responsibility to develop education systems that suit tomorrow's generations. She joined WISE Learners' Voice program to be able to make the difference in education that she aspires to see.