Fatima Mahmoud Ramadan Sanz
Research Analyst of Teach For Qatar

Spain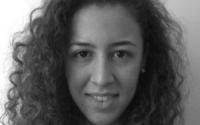 Fatima was born in Barcelona, Spain. As a young teenager, she moved to Khartoum, Sudan. She lived in Sudan for three years. There she spent her free time traveling across the country, learning about the vast range of cultures in Sudan. As a high school student, she volunteered with Save the Children. Her volunteer work was dedicated to introducing sustainable methods of water management to disadvantaged communities in the Sudanese capital.
After graduating high school, Fatima moved to Doha, Qatar. She recently obtained her Bachelor's degree from Georgetown University School of Foreign Service in Doha where she majored in International Politics. During her undergraduate studies, Fatima participated in several community service activities. She took a Disaster Management course with the Red Cross, taught English to the workers of Georgetown University through a student club called HELP (Hoya English Learning Program), and traveled to Sri Lanka with Habitat for Humanity.  
Currently, Fatima works in Teach For Qatar, an educational initiative that aims at placing Qatar's most talented youth in the classrooms, as teachers.