Fei Chen
Graduate of Peking University

China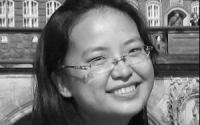 Fei Chen finished a Master's degree in Education and Technology at Peking University. As part of her studies, she is doing a research on higher education students and the social media. Also, she has taken part in many projects, including Investigation and Reflection on China's National ICT Resources, Research on Indicators and Benchmarks of ICT in K-12 Education, and China's K-12 Teacher Online Training Program.
 
She is concerned about equity in education and how to use modern information and communication technologies to support learning in rural China. In 2008, she was a voluntary teacher in Huining, a small, rural town in Gansu Province, in the northwest of China. The following summer she went back to Huining as a volunteer team leader, helping her group members practice voluntary teaching. Thanks to her outstanding leadership and hard work in Huining, the volunteer group won Gansu's Best Volunteer Group Award in 2009.
 
Fei Chen is someone who will take on any task assigned to her in a cheerful, helpful manner, and who can be depended upon. She has always been willing to assist others both inside and outside the study program.
She has been the research assistant of Professor Tim Unwin who is now the Chairman of ICT4D, UNESCO. She helped Professor Unwin to connect with associations of disabled groups in China.