Fnu Pubusangzhu
Field Officer, Machik

China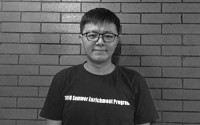 Pubusangzhu holds a BA of Arts in Business Administration from Beijing Foreign Studies University, China. During his time at university, Pubusangzhu co-founded an organization called Kimshi, which serves as a platform for thousands of Tibetan college students studying in Inland China to network and explore opportunities to serve Tibetan communities.
Pubusangzhu is the Field Officer at Machik, an international organization that does innovative service work inside Tibet by supporting and developing new opportunities for education, entrepreneurship, creativity and gender empowerment. Currently, Pubusangzhu is co-overlooking two brand new projects at Machik – Machik Mentors (MM) and English Language Buddy (ELB). MM provides one-on-one mentorship for Tibetan students who are first generation college students, helping them to make a smooth transition from high school to college and navigate the college community and resources efficiently. ELB is the first technology integrated learning program matching native English speakers to Tibetan college students to help them learn English by using Skype and Wechat (WhatsApp equivalent).
Pubusangzhu believes that education equality is the core formula for solving many pressing issues in the world.