Ms Freda Wolfenden
Director, TESSA of The Open University

United Kingdom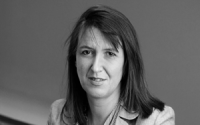 Freda Wolfenden is a Senior Lectureship in Education and Development in the Faculty of Education and Language Studies at the Open University, UK . 
Freda's career has been driven by a passion to improve opportunities to learn for all pupils though an emphasis on teacher development, particularly for those teaching in the poorest communities. Freda studied at Jesus College, Oxford and the Institute of Education in London and began her career as a secondary school science teacher in London and Asia before becoming involved in innovative projects to develop the use of new technologies to support learning.
Since joining the Open University in 2004 Freda has directed a number of teacher education programmes including the innovative online professional development programme, teachandlearn.net, and the Masters in Education programme.  From 2008 to 2012 Freda was Director of the TESSA programme.  TESSA – Teacher Education in Sub Saharan Africa, is a large research and development initiative exploring the use of Open Educational Resources to improve the quality of pre-and in-service teacher education at scale across 10 countries. In 2009 the Open University was awarded a Queen's Anniversary Prize for Higher and Further Education for TESSA and in 2011 TESSA was a WISE Award winner.   Freda is currently Academic Director for TESS-India, a large scale teacher education programme in 7 Indian states employing OER to improve teachers' classroom practices (funded by DfID)  and leading the Open University contribution to a Girls' Education Challenge project in Sierra Leone ( with Plan International) concerned with improving learning outcomes for marginalised girls.  
Her recent research work is focussed on the relationship of practice and knowledge and the role of practitioners in educational change, including their use of particular tools including Open Educational Resources and mobile technologies.  This work embraces leading both the re-generation of assessment practices in a large UK university and empirical studies with teacher education institutions in four countries in Sub Saharan Africa, linked to TESSA activity. She is also concerned with issues of gender in teacher education and is currently working on innovative projects in Malawi and Sierra Leone to develop opportunities for rural women into teaching.