Guill Marc Mariano
Co-Founder, Project ReConnect

Philippines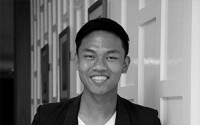 Guill was born into a fifth class municipality from northern Philippines, so has witnessed firsthand the struggles of students in rural areas: lack of facilities, outdated books, and unstable income of parents. He created the 88 Movement: Paying it Forward, a social venture that sells advocacy shirts and university apparels to raise funds to renovate a dilapidating day care center in his hometown in October 2015. Aside from renovating and providing the school with learning material tools (books, educational toys, and multimedia facilities), he also engaged the parents by providing them with livelihood trainings and initial equipment to provide them with additional source of income. In exchange, part of their profits are be used for students' lunches and school maintenance.
Guill recently finished his MA of Southeast Asian Studies from Chulalongkorn University in Thailand. He studied the role of culture in policy making processes particularly in the field of Corporate Social Responsibility. Guill has served as Junior Program Officer of the ASEAN University Network where he managed student mobility and youth related programs in ASEAN for almost three years.
Guill envisions continuing his advocacy for Early Childhood Education using 88 Movement to help make positive change, one school at a time.