Hassan Salatt
Commercial Graduate Developee, Qatar Airways

Qatar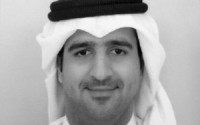 Hassan was born and raised in Qatar. Although he did not live abroad, Hassan was always interested in knowing more about the different backgrounds that the residents of Qatar came from. In addition to that, Hassan enjoys learning about different aspects of the cultures especially when it comes to a place he is visiting. From this interest and curiosity he decided to study in Carnegie Mellon University in Qatar (CMU-Q).
Hassan has recently graduated from CMU-Q with a Bachelors of Science in Business Administration. Throughout his university career, Hassan tried to learn about different cultures from his classmates. In addition to that, he played a role in promoting his own culture through different student organized events. Hassan believes that understanding different cultures will make us understand more people from these cultures, which is very important in his home country, Qatar.
One of Hassan's goals is to have a start-up that benefits the country and all of its residents by the products or services it offers.