Honey Abdi
Interpreter, United Nations High Commissioner for Refugees (UNHCR)

Somalia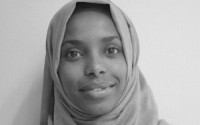 Honey Isse relocated when she was only 15 with her parents to the Kakuma refugee camp. She graduated from Kakuma Refugee High School in that camp, and her dream has always been to achieve higher education and use that as a basis from which to help her community. 
Honey has consistently demonstrated her commitment to education and community development through action and been a leader in bringing ideas to fruition and creating successful ventures with social impact. She was able to further her own education by earning the UNHCR-DAFI (Albert Einstein German Academic Refugee Initiative Fund) Scholarship in 2009. From that point on, she has honed her leadership skills and held numerous positions in non-profit organizations. She is currently the Treasurer in DAFI Kenya Students Organization (DAFIKESO) which she and her fellow students founded in 2011. 
She carried out a project with One Million Light, collaborating with Energizer Battery Company, and was project coordinator for the distribution of 1,200 solar lights to students in Kakuma Refugee Camp. She focused on supporting education through safe and affordable lighting and increasing opportunities to less fortunate and disabled students. In the past years, she was able to graduate with a Diploma in Community Health and Development from the Kenya Institute of Social Community Development. 
Honey's current profession is an Interpreter for the United Nations High Commissioner for Refugees (UNHCR) doing English/Somali translation. Her goal is to achieve a full four-year degree in Public Health and Management and she has an exceptional track record to show her commitment and ability to do so.