Ivica Alpeza
Board member of The Organising Bureau of European School Student Unions – OBESSU

Bosnia and Herzegovina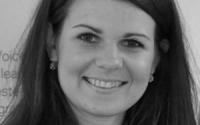 Ivica finished her Master's degree in Economics at the University of Mostar in Bosnia and Herzegovina. She has also just completed her two-year mission as a Board member at the Organising Bureau of European School Student Unions, OBESSU, a platform for cooperation between the national student unions active in general secondary and vocational education in Europe. She has been involved in youth work for many years, in particular within the school student movement, first in the Bosnia and Herzegovina national school student union, ASuBiH, and later on at the European level with OBESSU. 
 
As a Board Member, Ivica was in charge of the Working Group on Global Networking. Moreover, she was elected to represent OBESSU in the Advisory Council on Youth of the Council of Europe where her mandate will run until the end of 2013. 


 
As a WISE Learner, Ivica was a speaker at the 2011 WISE Summit and took part in the Learning Without Frontiers conference in London, United Kingdom, on January 25-26, 2012.