Fr. John P. Foley
Executive Chair of the Cristo Rey Network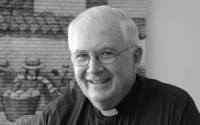 A Chicago native, Father Foley entered the Society of Jesus in 1954. He earned a B.A. in Latin from Xavier University in Cincinnati and holds an M.A. in Sociology and an M.Ed. from Loyola University in Chicago. From 1961 to 1995 he served the Jesuit missions in Peru, working primarily in education. He served as President of two of Peru's Jesuit K-12 schools.
He returned to Chicago in 1995 to collaborate in establishing Cristo Rey Jesuit High School. He was named President of the school in 1996 and served for eight years. During his tenure, together with the Leadership Team, he established the tradition and spirit of a school that has become a national model. In January of 2005, he assumed the presidency of the Cristo Rey Network of which he is presently Executive Chair.
Father Foley has received six Honorary Doctorates in recognition of being the Founder of the first Cristo Rey School: Georgetown University, Fordham University, Marquette University, Loras College, University of St. Francis, and Creighton University.
Father Foley was featured in an October 2004 60 Minutes segment on Cristo Rey Jesuit High School. The National Catholic Education Association (NCEA) awarded Father Foley the Seton Award in 2007. He was featured in Fast Company in April 2006 and named in Newsweek's "Who's Next for 2007." In 2009 President Bush awarded Father Foley the Presidential Citizens Medal, the second highest honor for a civilian, for his commitment to helping his fellow citizens lead lives of integrity and achievement.