Jyoti Rahaman
Student

Bangladesh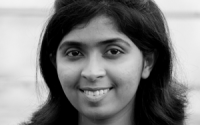 Jyoti is a student in her senior year at the Asian University For Women, in Chittagong, Bangladesh, majoring in P.P.E. (Philosophy, Politics & Economics) and minoring in Asian Studies. 
In 2012 she received an IKEA Foundation scholarship for academic accomplishment and leadership in her university. Because of her passion for innovative education she got the opportunity to do an internship at the Dr. Bansi Dhar School, Rajasthan, India, where she taught Mandarin Chinese to high school students for six weeks, and completed a project on "Innovative Teaching Practice in Math and English for Primary." In 2013 she was selected by Wesley Foundation, Japan, to participate in a Summer Seminar on "Peace, Global Studies, and Leadership" at Hiroshima Jogakuin University. She is currently volunteering as an Academic Mentor at her university, and working as a New Media Research Assistant. 
Jyoti strongly believes that for a country to achieve sustainable social and economic development it is crucial to have creative human capital. A huge amount of creative human capital can come from rural areas if a creative, informative and constructive learning environment can be provided at primary and high-school levels in the villages. She is interested in researching International Aid for Education in Asia, and dreams of working with the United Nations in the future.