Katerina Gavrielidou
Graduate, London School of Economics

Cyprus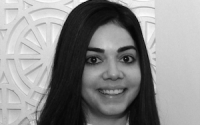 Katerina was born and raised in Nicosia, Cyprus. She completed her secondary education in Cyprus with distinction and at the age of 17 moved to Great Britain to continue with higher studies. 
She interned at the European Parliament in Brussels and has written articles and reports that appeared in, amongst other journals, the Oxford Philosophical Society Review and Le Reseau magazine, published in English, French and Arabic. 
Katerina is passionate about education and has taken part in educational projects in Europe, the U.S., Africa, Asia and the Middle East, such as the Harvard Project for Asian and International Relations. Her experience in formal and non-formal learning activities across the globe enables her to bring a fresh perspective on educational processes and learning environments to the WISE Learners' Voice Program.
Likewise, she is passionate about rethinking educational systems in order to respond to national and global challenges. Her commitment to education originates from her belief that education is a powerful tool of youth empowerment, and can transform the lives of young people and those around them. 
Katerina was educated at the London School of Economics with a M.Sc. in Politics and Government in the E.U., and the University of Lancaster with a B.Sc. in Business Studies obtained with Honors. She has recently completed the Commonwealth Youth Leadership Programme in Scotland, a Global Leader Experience for young Commonwealth leaders aged between 18 and 25. Katerina is fluent in English, Greek and French.