Khalid Al Saegh
Student

Qatar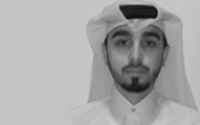 Khalid was born in Doha, Qatar, his family originated there and he studies engineering at Texas A&M, Qatar University. He has lived through the many changes that his community has faced during the last 10 years. He dedicates most of his time to sports management and organizing events, which is a very important part of his country's vision for 2030. He has participated in the Asian Games (2006), the Arab Games (2011), the Asian Cup (2011) and the 2022 World Cup Organization Committee. 
Khalid has also dedicated a lot of time to helping his community. He is a member of Qatar Volunteering Center where he contributes to helping the poor populations of Doha, providing for their material needs by collecting donations from local institutions and schools. His work has been recognized by Hamad Hospital and Drema, which are local institutions in Doha. Most recently, the Center gave him an award for his active involvement in its activities. 
Khalid is currently a senior student at Texas A&M University. He is also co-founder of a trade company in Doha. He is interested in acquiring experience from the WISE Summit to help him develop his community which is in the public eye since it is going to host the 2022 World Cup. Khalid is worried about the cultural conflict that may result from this event, so he is working hard to facilitate the process by fostering new cultural beliefs and implementing educational strategies.