Khushbakht Suhail
Area Education Manager, The Citizen's Foundation

Pakistan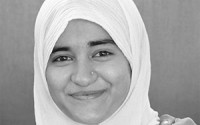 Khushbakht witnessed the appalling reality of Pakistan's education system face-to-face when she joined a government school for due to financial constraints. The rundown facilities proved that despite being one of the most vital constituents of development, quality education is a luxury only affordable by the elite. Therefore after attaining her business degree, she pursued a career in education.
Khushbakht began with Teach for Pakistan's fellowship, teaching at an under-resourced NGO-run school. Previous teachers attributed their students' inadequacy to their socio-economic backgrounds, but Khushbakht proved them wrong when she co-started Zia-e-Kulsum, and after grooming four children, secured them admissions into reputed private schools in the city. She also co-developed a low-cost teacher evaluation and academic planning framework based on Teaching as Leadership framework and so far has trained 60 teachers from four schools with 2000 students enrolled.
Khushbakht attended Penn Centre for Social Impact's Global Social Impact House in Costa Rica as a fellow in January 2016. This led her to the role of Area Education Manager at The Citizen's Foundation, Pakistan, where she currently monitors, evaluates and enhances the educational performance of 23 TCF schools in Karachi. Khushbakht envisions creating an education model which provides quality education to children from lower socio-economic backgrounds with added goal of creating positive changes agents in the society.