Kristina Bouree
Legal Science Student

Netherlands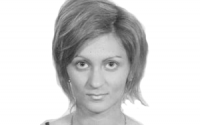 Kristina was born in Yerevan, Armenia. She has a Master's degree in Law from the State University of Moscow, and has studied for a year at Central European University and Charles University for doctoral studies. Kristina has held a number of fellowships in various universities including McGill University (Montreal, Canada) and New South Wales University (Sydney, Australia).
In 2011, Kristina spent four months contributing to work on the Corruption and Economic Crimes branch of UNODC in UN-Vienna. She founded the Institute of Humanitarian Development, an international organization that hosts foreign volunteers in Moscow and works for the intercultural development of Russian youth. She also founded Libertas International, an NGO that works in the field of human rights and intercultural development. Kristina has implemented projects around Europe and also in South Africa, India, Iran and China.
At the moment Kristina is working on developing both organizations and she is also doing her Ph.D. at the University of Lisbon. Her thesis discusses corruption during the transition of political regimes. She is currently living in Lisbon and trying – with difficulty – to learn Portuguese.