Dr. Leïla Mezian Benjelloun
President of BMCE Bank Foundation

Morocco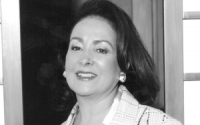 A graduate of the University of Madrid Medical School, Dr. Leïla Mezian Benjelloun pursued her studies at the University of Barcelona Medical School, completing her specialty in Ophthalmology.
After a position as Assistant to Professor Joaquim Barraquer in Barcelona, she worked under the supervision of renowned ophthalmological surgeons Dr. Castro Viejo and Dr. Byron Smith at the Manhattan Eye and Ear Hospital in New York. She practiced medicine for more than 25 years in Moroccan public hospitals and in her private surgical clinic. She has participated in numerous international conferences and symposia.
President of the Alaouite Organization for the Protection of the Blind and the Moroccan Red Cross, she was also Vice President of the Association of Medical Doctors in Morocco and President of the Benjelloun-Mezian Foundation, whose objectives are restoring national monuments and granting scholarships to Moroccan students worldwide.
Since 1992, her efforts have been focused on education.  She is President of the BMCE Bank Foundation whose principal missions are promoting education integrated into sustainable development and contributing to the preservation of the environment. She manages a team dedicated to the Medersat.com program, which has created more than 100 rural community schools including pre-schools, throughout Morocco, financed by the Foundation. BMCE Bank Foundation is present in Senegal, Congo Brazzaville and Mali. Dr. Mezian is married to Othman Benjelloun and has two children, Dounia and Kamal.