Leonardo Párraga
Business Management Student, specialization in Entrepreneurship, University of the Andes

Colombia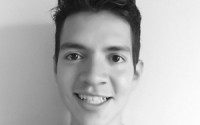 Leonardo is a 22 year old Colombian activist who is passionate about community empowerment and social justice. He is the founder and director of the BogotArt Foundation, an organization established with the aim of promoting a more democratic art and cultural scene in the city of Bogotá, Colombia.
He holds a Bachelor of Art in Business Management with a minor in Journalism from University of the Andes and has a specialization in entrepreneurship from the University of Maryland in the USA.
Leonardo and his team use art to transform marginalized neighborhoods into cultural hubs. Due to its contribution to social inclusion management in today's cities, BogotArt was recognized during the UN-Habitat 2014 World Cities Days as an important organization which brings youth perspectives to the spotlight. Moreover, through the project Utopianos, he uses the power of non-formal education and training to catalyze the potential of young people and help them to release their full potential.
He cooperates in Bogotá with local organizations at a grassroots level like La Redada, spearheading social inclusion in informal settlements and slums by co-creating the new places of participation. Furthermore, he cooperates in Latin America with Favela Mundo and Instituto Inconformados in Brazil, organizations working to turn children and young people into the shapers of their respective communities.
Leonardo has represented Colombia at the 2013 DO School Peace Program, 2014 World Forum for Democracy, the 2014 UNAOC-EF Summer School and the 2014 Great Silk Way Youth Camp