Maad Sharaf
Civil Engineering Student

Yemen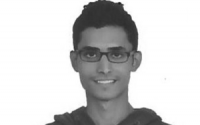 Born and raised in Aden, Yemen, Maad is a freshman studying Business Management at Istanbul Şehir University, Turkey. Maad was chosen in 2008 to be a part of the YES program funded by the US Department of State, an experience that changed his life completely. It gave him the opportunity to find his personality, support his beliefs and learn how people think in different cultures. It taught him to adapt to different people and to meet all new challenges that life throws at him. In 2009, while in the USA, Maad won first place for the "International Education Week" which rewarded him with a trip to San Francisco. 
Maad is an active member of many associations and organizations that spread awareness of community services and education among young people in his country. He worked at Amideast during the summer of 2009 and taught English for almost two years.
Maad's long-term goal is to open a non-profit organization to educate children and older people in his home country and, last but not least, he would like to win the Nobel Peace Prize.