Martha Kimweri
Recruitment Consultant of Radar Recruitment Company

Tanzania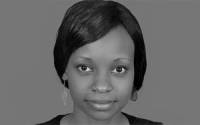 Martha holds a law degree from Tumaini University's Iringa campus in Tanzania. While she was a student, she was involved in different community activities, as Head of Finance in the Tumaini Law Society and as a member of the Community Action Group, a group dedicated to helping people in need, including supporting children who are infected with HIV/AIDS. She is a member of the Youth of United Nations Association in Tanzania and was the Chairperson of this group for the Iringa University Chapter. She also worked on a project to promote people's awareness of Peace, Security and Human Rights in 10 regions within her country. 
 
Martha is currently working as a Recruitment Consultant at Radar Recruitment Company in Tanzania and is looking forward to start a Master's degree in Business Administration in Tanzania this fall.
 
Martha's ambition is to help innovate education not only in her own country, but also on the whole African continent and around the world at large. She strongly believes that proactivity and innovation are the fundamental pillars of development.
 
As a representative of Learners' Voice, Martha took part in the eLearning Africa conference in Cotonou, Benin, on May 23-25, 2012.