Mohammed Al-Jaberi
Freshman Student of Université d'Evry Val d'Essonne

Yemen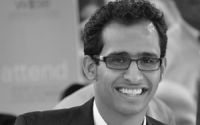 Mohammed is a student at Université d'Evry-Val-d'Essonne, majoring in Physics and Chemistry. Before moving to France, he spent three years as a young activist working for youth empowerment in Aden, Yemen. He won a grant from Bibliotheca Alexandrina and TakingITglobal, which helped him start a chain of initiatives targeting secondary school students, enabling them to achieve greater civic engagement within their small communities. The project was called "Lighting lives of Yemeni Youth". With the contribution of other activists and NGOs, the project is still ongoing.
 
Mohammed has been attending different international events to gain knowledge and share experiences. He aims to live in Europe to acquire as much knowledge as possible and bring it back to his home country for implementation. In addition, he is passionate about different cultures, the humanities and politics. He strongly believes that big challenges stimulate human innovation and raise the bar higher than ever expected.
 
As a representative of Learners' Voice, Mohammed was a speaker at the 2011 WISE Summit and participated in the study trip to School-Business Partnerships in Casablanca, Morocco, from May 27 to June 3, 2012.