Monica Marianda Tucker
Banking and Finance Student

Sierra Leone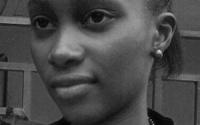 As a founding member of Girls Arise Network-Sierra Leone, Monica is a diligent, thorough and organized changemaker whose passion is to promote access to quality education for all, especially girls. She has demonstrated her commitment to research in peace building and access to education for girls and has provided invaluable insights into Sierra Leonean governance systems. She has worked patiently and enthusiastically and is continuously eager to learn new skills. 
Monica is a young leader who continues support her peers and her community. She has led radio discussion programs on the rights of women and girls and the Education: Our Right Too campaign. Monica also assembled the Parliamentary Committee on Education to encourage them to increase budgets for the Girl Child Education project in Sierra Leone. 
Monica is a second-year student reading Banking and Finance at Njala University in Sierra Leone. She believes her field of study will assist her in her support of vulnerable girls across Sierra Leone.