Morcos Metry
Electrical Engineering Student

Egypt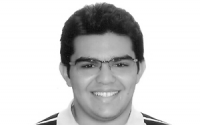 Morcos is currently studying Electrical Engineering at Texas A&M University at Qatar (TAMUQ), specializing in Power and Communications. He was born in Qatar and grew up in a multi-cultural community, giving him the chance to interact with people from many varied origins. He was awarded the Global Citizens Bronze Award at high school for valuing diversity. 
After high school, Morcos started his university education at the American University in Cairo, where he noted how poverty has prevented many people in Egypt from receiving education. When he transferred to TAMUQ, he then found that excessive wealth could demotivate students from learning. 
Morcos has been tutoring first and second grade children for more than a year and is also willing to discuss how children can be motivated, not only to learn, but to love the process of learning.
Following his Bachelor's degree studies, Morcos is seeking a chance to pursue postgraduate studies in the same field at Stanford University, where he can challenge his capabilities at a higher level. He would like to work in Qatar in the energy field to find more sustainable solutions.