Mouheymen A. Khan
CEO and Co-Founder

Bangladesh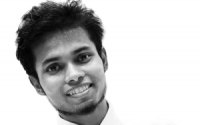 In his senior year, Mouhyemen Khan co-founded Qatar Robotics Institute for Development (QRID) with three other electrical engineering students at Texas A&M University at Qatar (TAMUQ). Since then, he has been actively involved in the growth and development of this institute along with his undergraduate studies at TAMUQ. QRID was founded in August 2013 and though it has only existed for two months the organization already has a network of over 160 registered members. It was founded on the principle that having a robotics institute in the Muslim world empowers youth in Science, Technology, Engineering and Mathematics (STEM) and build global ties with the rest of the world in leading technology in the fields of robotics, mechatronics, control and automation.
Mouhyemen, whose family was originally from Bangladesh, was born and brought up in the State of Doha. He is currently pursuing his undergraduate studies in Electrical & Computer Engineering at Texas A&M, University at Qatar. He aims to pursue his future studies in the fields of robotics, mechatronics, controls and automation, and also make them accessible in an engaging and fun way to young people and undergraduates. 
Mouhyemen has tutored at the Office of Academic Supplemental Instructions and Services (OASIS) for two years in the subjects of MATLAB, Modern Physics, Electric Circuit Theory, Electronics and many other Electrical Engineering courses. OASIS is a network of student-tutors led by professionals that enhances education at TAMU-Q where students tutor students in various courses. 
Apart from his studies and work, Mouhyemen enjoys religious studies, art, dance and improving his language skills in Arabic and French.