Nikhil D'Souza
Student

India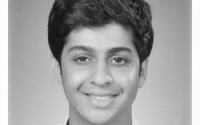 Nikhil D'Souza is a young law student from India. He studied for his Bachelor's degree in Law at the University of Mysore for four years, before moving to study for a year at University Law College, Bangalore, where he graduated this year. In Mysore, he co-founded JusTeach Foundation which serves as a platform for young college students to teach disadvantaged children in orphanages. 
He has also served as an International Project Coordinator with the International Youth Council, Sri Lanka Chapter, and has participated in a number of international forums such as the 6th World Youth Congress 2012, Rio de Janeiro, where he was a panelist on the round table on volunteering, the 1st Social Entrepreneurship Exchange Conference, Israel 2012, organized by StandWithUs, Israel, the International Leadership Training Programme 2012: A Global Intergenerational Forum organized by the UNESCO Chair & Institute of Comparative Human Rights at the University of Connecticut in Bangkok, Thailand. This year he received the 2013 Mentee Award at MCW's 16th Annual International Youth Leadership Retreat at New York University, NYC.
As a recipient of the Jawaharlal Nehru Award for International Understanding – Dr. Angela Merkel Scholarship from the DAAD, he is now studying for his Master's degree in European Legal Studies (LL.M.) at the Europa-Kolleg, University of Hamburg.