Niloofar Arabi
Psychology Student, Shahid Beheshti University, Iran

Iran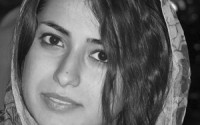 Niloofar from Iran, was raised in a family of teachers and scholars, so education became a really important part of her life from an early age. After high school, she excelled in the highly-competitive university entrance exams in Iran and became a psychology major.
In order to enhance her practical skills, Niloofar took an internship at The Center for the Treatment of Autistic Disorders, a leading Iranian organization providing outreach treatment services for children with autistic spectrum disorders.
After that she started working with children suffering from poverty and with Afghan immigrants whose children lacked access to proper education. In this course, she discovered her passion for social service, justice and community health.
In 2012 she joined the Family Health Association (FHA) of Iran as one of their many young volunteers where later she was elected as the chairperson the Youth Committee.
FHA Iran is an NGO contributing to the promotion of Sexual and Reproductive Health and Rights especially among the youth and vulnerable groups in consistence with cultural values of the society.
The youth committee's work has included extensive advocacy seminars, profile raising for the organization and campaigns to strengthen the Association's volunteer and membership base.
She also represented her country in IPPF South Asia Regional Youth Network (SARYN) annual meetings in 2013 and 2015. The main objective of SARYN is to ensure meaningful youth participation and involvement within the IPPF governing system in South Asia.
Having recently received her Bachelors degree, Niloofar is planning to continue her higher education.