Nour Barakat
Medicine Student

Syria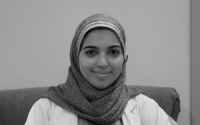 Nour is a third-year medical student at Weill Cornell Medical College in Qatar and an aspiring physician and educator. She's passionate about the development of societies on a solid foundation of world-class education, healthcare and community service projects. In Nour's opinion, to achieve one's dreams one needs to believe in one's strengths and talents, utilizing them to achieve success while providing support to those who need it.
Nour is committed to applying this model by transforming her passion into a lifelong career of providing healthcare in ophthalmology and training young physicians. She has concrete plans to obtain a professorship in ophthalmology at Weill Cornell Medical College in Qatar, and a clinical role in Sidra hospital. She hopes that her path will allow her to serve the country that supported her. 
Nour has held various workshops for students in health awareness, leadership, career planning and student counseling as well as community service. Recently, she acted as a national consultant for the United Nations UNAIDS program, reporting on behalf of Qatar, and has completed clinical research in Ophthalmology in New York Presbyterian Hospital.