Nur A'qilah Binte Abu Saiere
Early Childhood Education Student

Singapore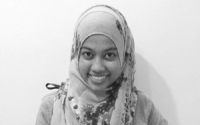 Nur A'qilah is a senior at Wheelock College, Singapore, who is studying for her Bachelor of Science degree in Early Childhood Education. She was born and raised in Singapore but her educational experiences and love of traveling have given her a passion for languages and other cultures. She is also an active participant in youth activities within her community. 
She is Vice-President of the Wheelock College Student Government where, together with her peers, she strives to reach out to the community in the hope of improving the lives of young children and their families. Today, she continues to be involved in youth-engagement events and is currently the Project Head for the Youth of Darul Arqam, Singapore, and the Chairperson of the Annual Youth Forum. 
A'qilah is particularly interested in arts education and is currently an assistant teacher with Art Loft Singapore, a studio for children and adults. She conducts various visual arts activities and is also involved in museum education for young children. During her diploma years with Ngee Ann Polytechnic, she conducted research into arts education for young children and attained the PAP Community Foundation Award for Outstanding Performance. 
When she graduates from Wheelock College, as a scholar with the Early Childhood Development Agency of Singapore, she plans to continue working within the sector as a teacher before possibly pursuing a Master's degree. A'qilah has made it her mission to be an educator who advocates for young children to provide endless opportunities for them to grow.