Olaoluwa Abagun
Law Student, Obafemi Awolowo University

Nigeria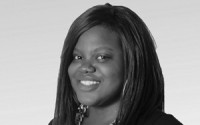 Olaouwa was born and bred in Lagos, Nigeria. In 2008, she graduated from Queens' College Lagos, bagging the "Outstanding Service to College Life Award" for her strong leadership as the Deputy Head-Girl of the College. Shortly after, she proceeded to Obafemi Awolowo University where she recently obtained a Bachelor of Laws (LL.B) Degree.
Olaoluwa was ushered into advocacy at the age of 13, serving for four years as a Child Senator in the Nigerian Children's Parliament. As an undergraduate, Ms Abagun volunteered in the Talent Management Unit of AIESEC – the world's largest youth-run organization. Through AIESEC, she facilitated several local/national leadership conferences between 2013/2014, engaging up to 1,500 young people across Nigeria and Ghana – including about 30 volunteers from Europe and Asia.
In her graduating year, Olaoluwa founded "Girl Pride Circle", a non-profit geared towards speaking up for girls' rights and fortifying African girls with education and leadership skills required to transform their communities. On the strength of her active engagement in advocacy, Women Deliver selected her as a Young Leader – one of the 200 outstanding global youth advocates for the rights of girls/women.
To Olaoluwa, the WISE Learners' Voice Program is an enabling platform to further advocate for "out-of-the-box" investments in girl child education.
Olaoluwa Abagun is currently a graduate legal intern at Paul Usoro & Co – a leading law firm in Nigeria. She looks forward to acing the Nigerian bar examinations, becoming Africa's brightest Commercial Lawyer and an International Gender Policy Consultant.