Oubai Elkerdi
Mechanical Engineering Student, McGill University

Syria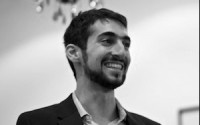 Oubai was born and raised in Damascus, Syria. As an engineering student at McGill University, he has worked with leading companies and professors in areas ranging from aerospace engineering to biomechanics. He is the recipient of the Harry Pearce Prize and is currently completing his Master's degree in Mechanical Engineering.
Oubai is also an artist. He speaks four languages and gives workshops in visual communication, graphic design, photography and creativity. In his workshops, Oubai tries to emphasize meaning and introspection, not simply aesthetics. His philosophy of education and art is inspired by both contemporary pioneers and traditional masters, from modern approaches and classical methods.
In 2011, he co-founded the Arab Development Initiative which offers a platform for finding innovative ways to tackle the difficult questions that presently face the region. In addition, Oubai is the Media Director at the Silk Road Institute, a Canadian-based non-profit that brings people together through the exploration of ideas, literature, and the arts that challenge us and define who we are.
Oubai shares his thoughts and ideas on his blog and on Wamda — a platform designed to empower entrepreneurs in the MENA region — where he writes about innovation, education and culture.