Paula Melisa Trad Malmod
Argentinean Ambassador, A common word among the youth (ACWAY)

Argentina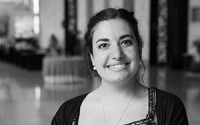 Melisa is an Argentinean journalist with a degree in Social Communication. She has created her own political blog, has worked in radio stations since she was 12, and is currently a reporter for a local newspaper.
At 18, Melisa worked with a team to establish a regional office of the Youth Argentinean Organization for the United Nations (OAJNU) and became its Executive Director. She volunteered for seven years at this youth NGO, driving social projects to empower young people, and co-founded the Argentinean Network for Public Service (RedAR) that works for the improvement of public policies in Latin America. Because of these projects and her work around gender issues, she has represented her country's youth at conferences in South Korea, Morocco, Indonesia, Spain, United States, Brazil and Belgium, and is part of the community of ex-Alumni of the US State Department. Melisa was chosen by UNESCO as a Global Youth Advocate on Global Citizenship Education in 2015.
She has also joined "A Common Word Among the Youth" – a movement for the promotion of peace and coexistence -, and is currently launching a project, "Make Hummus, Not Walls" to strengthen the bridge between Latin America and the Arab world.